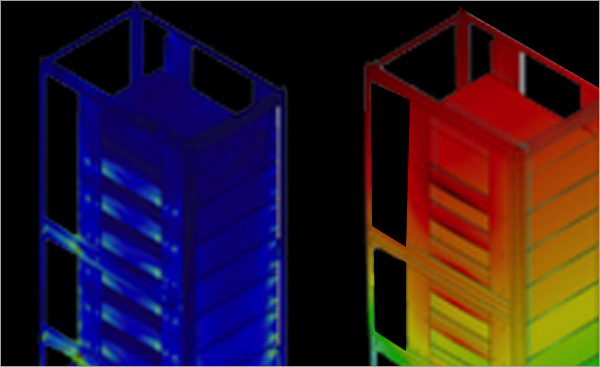 As electromechanical systems require more functionality while overall dimensions remain relatively similar, thermal management and design continue to play a critical role in the design and production of these systems. These are well-known drivers for thermal management in the computing, power conversion, telecommunications and networking industries; however, thermal management is also a critical element in the design process for medical, industrial, automobile, solar and LED lighting applications.
A typical thermal design process includes:
Early feasibility analysis to define cooling concepts
Designing and selecting appropriate heat sinks, fans, cooling vents, etc.
Thermal analysis and simulation to ensure that all power-dissipating components are cooled below their respective recommended operating temperatures
Airflow and thermal tests to verify thermal analysis results
Sanmina also provides complete thermal management and design services to support mechanical and electrical design of complex electromechanical systems. These thermal design services include full analysis and simulation, using industry standard tools such as Ansys Icepak. Thermal analysis may be done on component, board, system and rack/data center levels.
Performance customers count on
Once the first prototype is built, actual airflow and thermal tests are performed at Sanmina's Mechanical Systems Division (MSD) airflow and thermal lab to verify simulation results and make necessary corrections, if needed. Our airflow and thermal lab has the following test equipment:
500 CFM Airflow Chamber
2000 CFM Airflow Chamber
Data Acquisition Unit
Thermocouples
DC Power Supply
Portable Tachometer
Sound Lever Meter
The test services provided by this lab include:
Airflow and thermal characterizations
Obtaining experimentally verified inputs (such as component airflow resistance for the simulation model)
Fan performance test
System impedance and airflow test
Engineering validation test (EVT)
Preparation for design validation test (DVT)
Cooling that works — introducing the ECOBAY2
Sanmina has designed and built water-cooled, in-row coolers for data center applications. These products are known as ECOBAY2 and can be mounted in hot-isle/cold-isle containment PODs to cool equipment racks. A containment POD has been installed in Sanmina's Mechanical Systems Division (MSD) thermal lab cooling up to four equipment racks demonstrating the cooling capacity of the ECOBAY2 coolers.