SOCIAL RESPONSIBILITY
Community Outreach
Community outreach is an integral part of our company values and culture.
At Sanmina, community outreach is an integral part of our company values and culture. We aim to improve local communities in regions where we do business. Our wide range of initiatives include collecting donations for local food and clothing drives, children toy and book charities, and supporting a variety of regional homeless shelters. In addition to these programs, we encourage our employees to volunteer and participate in local charities unique to their region.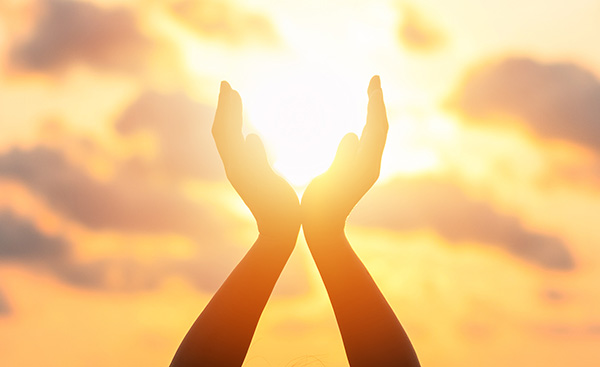 SUPPORTING CORPORATE SOCIAL RESPONSIBILITY
Sanmina participated in the 2019 Ideal Village Conference: Corporate Social Responsibility event that took place at Stanford University on June 25, 2019. The meeting was focused on developing rural and underserved urban communities so that all of their essential needs are met, thereby leading to revitalized, healthy and economically sustainable communities, using public-private collaborations.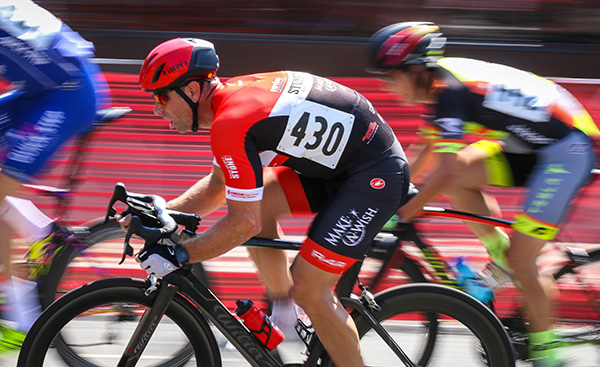 SPONSORING "RACING FOR RESEARCH"
Sanmina is a proud sponsor of the Racing for Research (R4R) cycling team in the San Francisco Bay Area. To date, the team has raised more than $250,000 for the Make-A-Wish Foundation, an organization devoted to making dreams come true for children with terminally ill conditions. Because of their fundraising efforts, more than 36 families have received wish grants.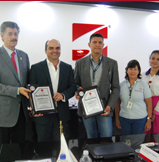 SUPPORTING FOR THE RED CROSS
Sanmina actively supports the Red Cross across many of our facilities world-wide. In addition to our annual blood drives, Sanmina facilities in Mexico have donated almost $37,000 (USD) to the Mexican Red Cross. Through our ongoing contributions to the Red Cross, we help to foster local community health and development.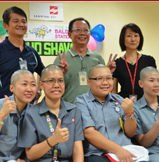 HELPING CHILDREN WITH CANCER
As part of our commitment to improving the lives of local communities, the Sanmina Singapore facility partnered with Hair for Hope, on an event that raises money and generates awareness for the Children's Cancer Foundation in Singapore. Employees volunteer and show support for families who have a child living with cancer. To date, the facility has raised over $41,000 (USD).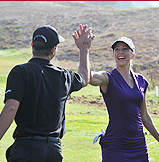 SUPPORTING LOCAL FAMILIES IN NEED
For the past several years, Sanmina has held a golf-tournament to raise money for Family Supportive Housing, an organization that helps families overcome poverty, hunger, and homelessness in Santa Clara, California. This includes interim supportive housing, childcare, life skills classes, transitional housing and supportive services for families in permanent housing. This year, Sanmina participants raised over $80,000 for the organization.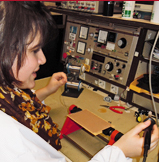 PROMOTING DIVERSITY IN TECHNOLOGY
At Sanmina, gender equality and diversity is an integral part of our company policy. To help promote women in high-technology careers, our Sanmina facility in Gunzenhausen, Germany takes part in Girls Day, a one-day event for young girls to learn about the wide-range of career opportunities in engineering and technology. The event is affiliated with the Girls Day Campaign, a network of 350 working groups from regional business alliances and agencies that are committed to promoting women in technology. In fact, 18% of organizations have employed young women who initially became acquainted with the respective company through Girl's Day.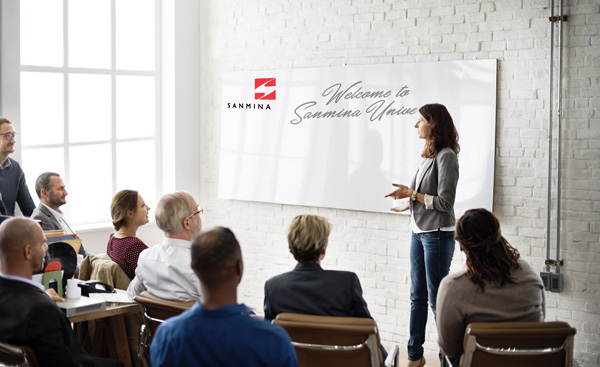 FOSTERING STUDENT SUCCESS
Sanmina believes all students deserve the opportunity to thrive academically. We are a long-term partner of Coral Basics, a federally funded afterschool literacy program for low-income, high-needs neighborhoods in San Jose, California. The initiative provides homework help, reading and writing classes, and enrichment activities including a variety of clubs and field trips. Students in the Coral Basics Program show enhanced California Test Outcomes and fewer absences from school. For two consecutive years, 42% of Coral Basics students improved their reading level by one grade level.