SOCIAL RESPONSIBILITY
Employees
Sanmina's success is a direct result of our diverse and highly-skilled workforce.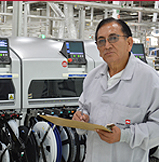 Ernesto Hernandez Leyva has been a loyal Sanmina employee for the last 25 years. He began his career as a security guard at the Sanmina Guadalajara facility, and later worked as a company driver for five years. As a result of his hard work and dedication, Ernesto has since been promoted to an Engineering Position in the Regional Environmental Health and Safety Department employee. As Ernesto says, "I am pleased that my work is focused on the safety and health of people, in addition to caring for the environment."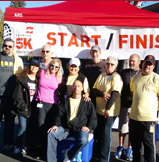 Sanmina's goal is to help employees live healthy and balanced lives. To help our employees achieve this goal, we offer free seminars on nutrition and healthy eating and sponsor Intramural Sports Teams. Sanmina also sponsors numerous events each year, all over the world, that help promote the health of our employees as well as other members of the community.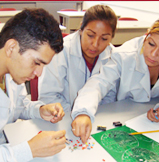 Sanmina University is a professional development program for employees who seek to advance their careers through skills based training. For the last 8 years, the program has offered courses and workshops in areas such as: product and process engineering, program management, supply chain management, test engineering, quality, human resources, equipment engineering, and production control. Sanmina University also offers skills training to help employees improve problem solving, business communication, teamwork and leadership. In 2007, 2008 and 2010, Sanmina University obtained the Jalisco Government "Excellence in Training" recognition award.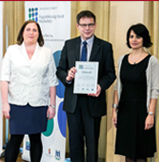 ENCOURAGING INCLUSIVE HIRING PRACTICES
In March 2015, both Sanmina Tatabanya facilities won the Disability-Friendly Workplace Recognition Award, which highlights our commitment to inclusive hiring practices. "Winning this award demonstrates our effort to pay particular attention to equal opportunity for our employees," says Karoly Hoffman, Sanmina Tatabanya Vice President and General Manager. The facility implemented an equal-opportunity hiring campaign to encourage applications from people living with a disability. Each Tatabanya facility also contains special workstations to accommodate staff with a disability. The award is given out once a year by the Ministry of Human Resources, the American Chamber of Commerce in Hungary, the Szövetség a Kiválóságért Non-Profit and the Hungarian-based, Salval Vita Foundation.
Sanmina's success is a direct result of our diverse and highly-skilled workforce. Enterprising and results-driven, Sanmina employees thrive on delivering exceptional services to the world's leading technology companies. We create a positive, safe and healthy work environment that helps employees achieve their personal and professional goals.Many Sanmina employees have achieved substantial career advancement at Sanmina. Sanmina rewards creative approaches that solve complex problems. We welcome new ideas. With the right performance and initiative, employees have real opportunity for professional growth at Sanmina.