OPTICAL AND RF MICROWAVE
SANMINA IS THE LEADER IN THE TURNKEY DESIGN AND PRODUCTION OF OPTICAL AND RF PRODUCTS.
Lasers
Sanmina builds TOSA's, pump lasers, tunable lasers and other high performance lasers to our customer's specifications.
Optical Modulators
Sanmina offers expertise and technology for advanced optical/RF, opto-electronic components, modules and subsystems along with global manufacturing.
High Speed RF Drivers
Sanmina, using our proprietary design tools and simulation models, designs then builds RF driver modules that are optimized for our customer's applications.
Micro-Electronic Assembly
Sanmina has over 20 years expierence in high-speed custom RF packaging design and manufacturing, along with unique micro-electronics assembly and test capabilities.
Design, Packaging & Technology
Sanmina provides complete design services, technology development, custom packaging technology and global manufacturing for RF, optical & microelectronics.
Radar Transmit Receiver Module
Sanmina designs and manufactures the most innovative and complex optical, RF and microwave products in the world.
Test System Development
With substantial expertise in the turnkey design and development of high speed and automated RF and optical test systems, Sanmina provides leading OEM's with complete test solutions for products operating at up to 400 Gbs.
At Sanmina, we've built a rich history of developing advanced RF and optical solutions by partnering with some of the world's most innovative companies. Leveraging more than three decades of expertise in Optical, RF and Microelectronics, we provide product design and development, test engineering, process engineering, and New Product Introduction (NPI) support for component, module and system-level applications. We also manage all aspects of product manufacturing, along with implementing product-sustaining and cost-reduction strategies.
OPTICAL & RF BROCHURE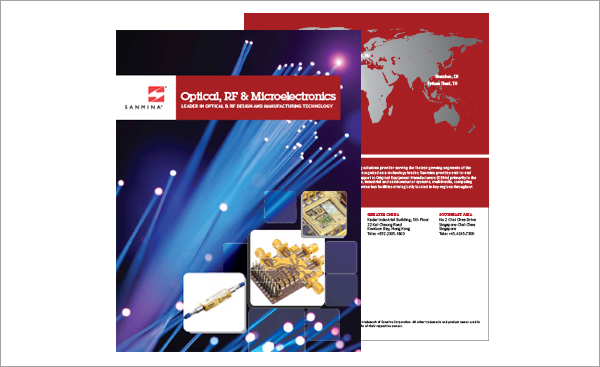 CASE STUDY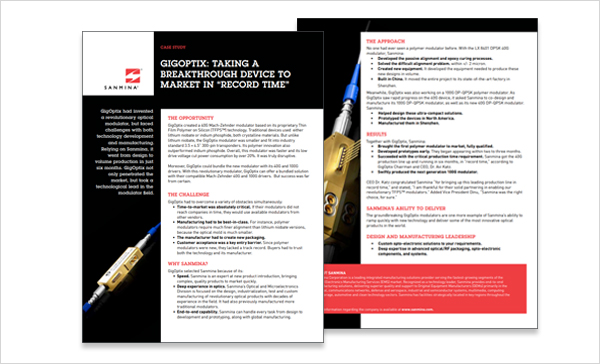 CASE STUDY