HIGH QUALITY AND HIGH PERFORMANCE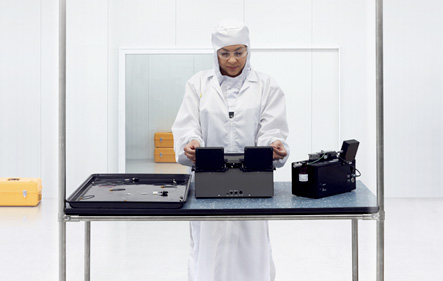 Our quality and customer focus is evident in everything we design, manufacture, test and deliver. It's this emphasis on quality, innovative technology and complete end-to-end manufacturing solutions that drives our business and provides our customers with significant competitive advantages in the global marketplace.
Whether we're designing and prototyping products in one of our New Product Introduction (NPI) centers, launching new products in one of our low-cost, high-volume manufacturing facilities, deploying the personnel needed to meet a customer's demand or delivering shipments to a major global market, we take every measure to ensure quality, excellence and industry-leading processes throughout every Sanmina operation.
Product Analysis and Reliability
Our innovative product analysis and reliability testing labs combine product reliability testing as defined by IPC with the most stringent customer requirements. Plus, advanced technology products from every facility are regularly submitted to thermal stresses beyond industry standards. At Sanmina, new technologies must pass rigorous internal qualification prior to customer approval to ensure the highest level of quality and satisfaction.
Advanced Quality Training
Quality training is at the core of our success. We utilize advanced quality personnel training featuring Six Sigma green-belt and black-belt programs, as well as a quality-system training program based on TL9000 directives. Plus, all of our global manufacturing facilities are ISO-registered and meet stringent requirements from international regulatory organizations that include environmental agencies and directives.