ORDER FULFILLMENT, REPAIR & PRODUCT LIFECYCLE SERVICES
Accelerated Turnaround Time.
Lower Inventory & Capital Investment.
Global Footprint. Diverse Product Mix.
Direct Order Fulfillment
Forward Logistics
Transforming fulfillment with complete BTO, CTO and Direct Order Fulfillment. Advanced I.T. systems optimize hubs and global inventory management.
Systems Assembly & Integration
We assemble, configure to order and deliver thousands of rack scale integrated systems and appliances annually world-wide.
Aftermarket Services Reverse Logistics
Optimizing warranty management, RMA, advanced replacement and RTV processes. Providing Repair and Refurbishment Services. Orders processed in less than a day.
Repair Services
Sanmina provides complete repair, failure analysis, remanufacturing and test development capabilities for both simple and highly complex systems.
Accelerated Repair Turnaround Time
Sanmina developed innovative software algorithms to efficiently manage a customer program routing 2,500+ in-warranty and out-of-warranty repairs per day with turnaround times from 1 – 3 days.
Out of Warranty Repair:
50% Material Cost Reduction
Sanmina developed innovative repair methods for a customer program to reduce the cost of materials used to repair over 600,000 ruggedized mobile computers & scanners annually.
$5M Swap Stock Inventory Reduction
Sanmina reduced repair turnaround time for a customer program by 2 days enabling a decrease in swap stock inventory of $5M for customers & their end customers.
Supply Chain Services
Customers experience immediate benefits from Sanmina's global supply chain solutions, including hub and VMI services, and a large portfolio of preferred suppliers.
Product Life Cycle Management
Inventory and spares management, sustaining engineering, subassembly redesign, lifetime parts planning, parts harvesting and recycling.
Quality Certifications
Sanmina's order fulfillment & repair service facilities are ISO 9001 certified. Key sites have additional certifications including ISO 14001, ISO 13485 & TL 9000.
Sanmina Global Services – A One Provider Solution
Sanmina Global Services integrates forward and reverse logistics services with product lifecycle management for electronic systems, sub-assemblies and PCBAs. Forward logistics includes manufacturing, order fulfillment and distribution services. Reverse logistics includes return of faulty products from the field, advance replacement, electronic repair services and robust supply chain management. This integration provides our customers with a complete solution; assembly, configuration, distribution, after-market services and end-of-life management of products, at a lower cost and with fully integrated data and configuration management.
FORWARD LOGISTICS & ORDER FULFILLMENT
Sanmina provides configure to order, build to order, logistics and order fulfilment services to OEM customers & their end customers.
REPAIR & REVERSE LOGISTICS
Sanmina collects faulty systems from end customers and ships them to a Sanmina facility where they are repaired before being returned to operational service.
BROCHURE
Many of the world's Fortune 100 companies trust Sanmina to provide fulfilment & repair services in 60 centers worldwide.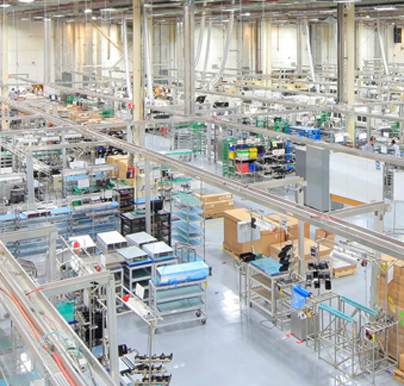 CASE STUDIES
Sanmina has helped customers reduce repair cost, achieve consistent turnaround times, lower swap stock inventory and reduce logistics costs.
Systems Assembly / Integration, Order Fulfillment & Forward Logistics
Each year Sanmina ships over 270,000 different products in volumes in excess of 250 million. Systems can be built-to-order or configured-to-order to meet end customer requirements. Individual orders are typically fulfilled in lot sizes of one but also as bulk shipments.
After-Market, Reverse Logistics & Repair Services
After-market services include RMA management, reconditioning, refurbishment, re-manufacturing, advance replacement of field replaceable units and warranty management.
Accelerated repair turnaround times allow customers and their end customers to minimize investment in swap stock inventory to maintain operational performance while systems are being repaired. Sanmina's continual improvement approach optimizes logistics and material costs while reducing repair cycle time. IT systems and algorithms have been designed to speed up repairs and help segregate in-warranty and out-of-warranty items. PCBA, sub-assembly and electronic system repairs are screened, sorted according to assigned fault codes and routed to the appropriate work station for repair and re-test.
End-of-life management
Component engineers and supply chain professionals develop solutions to the challenges of supporting systems for many years of operation despite components used in the design going obsolete. Solutions include recommending alternative components, reverse engineering, re-design, component harvesting and last time buy programs.
Markets & Industries
Sanmina provides manufacturing, order fulfillment, forward logistics, after-market, reverse logistics, repair services and product life-cycle management services to customers in a wide variety of markets including medical, telecommunications, enterprise computing, retail and logistics. Our teams have decades of experience with many complex PCBAs and systems in applications including telecommunications systems, MRI equipment, blood handling systems, industrial access systems, handheld ruggedized computers and scanners. Industry and product specific requirements including medical product decontamination, RF technology expertise as well as cleanroom assembly & repair are accommodated.
Sanmina's "One I.T. System" provides integration and control between our 60+ Sanmina and partner logistics centers. Our I.T. and quality systems, consistently deployed around the world are the foundation for our integrated global solution, lean practices, strong materials management and advanced engineering services. Our single platform provides customers with real-time visibility to operational, repair and material data.
With service centers on five continents, our network of repair hubs and 3PLs provides a post-manufacturing infrastructure to perform repairs close to the point of product failure, while working together to meet service demands around the world.