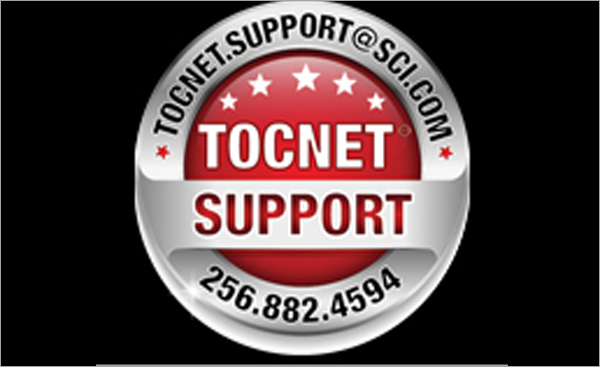 SCI's TOCNET® is 100% designed, developed, manufactured and supported in the USA. SCI supports TOCNET® with a full-time technical support team, help desk, and provides continuous software upgrades to meet emerging functional requirements, typically at no extra cost to TOCNET® customers. Training is also provided at no cost if conducted at SCI's Huntsville, Alabama location.
In addition to the in-house support, the TOCNET® team has a decades-long legacy of providing extraordinary support to TOCNET® customers, including on-site integration assistance, problem resolution, system set-up and configuration, and user training. This level of support also extends to potential TOCNET® customers who are evaluating a TOCNET® based solution for their ICS requirements.
All support is provided from SCI's Huntsville, Alabama location. The TOCNET® support team is co-located with the TOCNET® software and hardware developers, so technical questions and performance anomalies can be assessed, diagnosed, and resolved quickly and competently. When a single anamaly needs to be resolved, a software patch can be rapidly generated, tested, and sent to the customer typically within 1 to 2 days.
SCI maintains a complete TOCNET® integration lab that replicates virtually all equipment found in a command center or vehicle, including all commonly used tactical radios, thanks to our cooperative working arrangements with radio suppliers such as Thales and Harris. This partnership allows SCI to accurately replicate a customer's reported problem in order to identify an effective resolution. This combining of TOCNET® and 3rd-party equipment also facilitates effective hands-on training and customer demonstrations.
Skilled FSRs from SCI and the PdMcPS&I affiliated Tobyhanna Army Depot (TYAD)in-theatre support for deployed USMC, US Navy, USAF and US Army systems is provided by skilled FSRs from SCI and Tobyhanna Army Depot (TYAD) through PD-CPS&I. SCI coordinates refresher training to ensure the FSRs are up to date with the latest TOCNET® features.
User Manuals and Technical Reference Manuals are available at no cost and are easily accessible.