Facility located in Apodaca, Nuevo León, Mx. It was established as Sanmina in December 2013. Serving the Oil & Gas Industry from its inception. ISO 9000:2008, FM Global, CTPAT, ISO 14001. 219,050 ft² production area. 
Specialized Process Capabilities include:
Induction Heat Treat – Superficial Hardening up to 16" OD.
Welding – SMAW & GMAW
Painting Cabinet – up to 33 ft
Deep Drill-Pack Boring-Up to 236" Length, ID 1" to 7.5"
Honing – up to 170" Length, ID 4" to 8"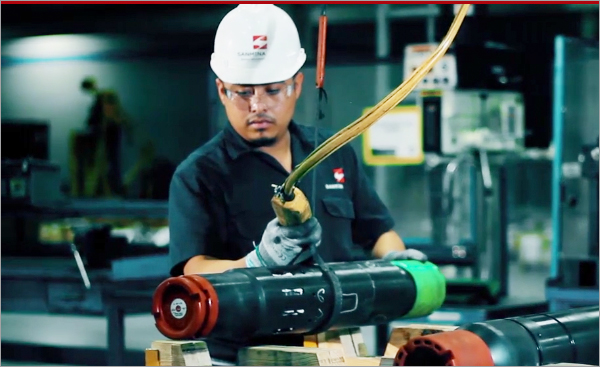 Precision Machining
Sanmina's Machining Manufacturing utilizes the best equipment in the industry to provide components meeting the requirements for all tools and assemblies.
We have many critical onsite specialized processes including Induction Heat Treat, Welding, Coatings and Proprietary Threading to name a few.
Machining
Qty

Lathe

Multi task

Mill

37
14
5
Vertical Hone
1
Horizontal Hone
1
Deep Drill
1
Total Machines
59
Manual Assembly
Integrates components into a fully assembled and functionally tested tool
| | |
| --- | --- |
| Assembly Cell | Qty |
| Pressure Test | 3 |
| Torque Machine | 1 |
| Shifting Test | 1 |
| Total Machines | 5 |
Equipment
Axis
OD Min/Max (")
Long Min/Max (')
Lathe
2-4
1″
22″
1″
199″
Mill
5
1″
25.5″ x 30″
1″
88″
Multitask
5
1″
12.25″
1″
149″
Deep Drill/Pack Bore
1
1″
7.5″
32″
236″
Horizontal Hone
1
4″
8″
12″
170″
Vertical Hone
1
1.5″
3.5″
6″
22″
We provide scalable solutions for the demands of the Oil & Gas Industry.
Tool Manufacturing Capabilities:
Low Volume to High Volume
Low Complexity to High Complexity
Configure to Order
Manufacture to Order
Work Cell Approach
Lean Manufacturing Strategies
Component Machining Capabilities:
5-Axis Turning
Milling
Lathe
Vertical/Horizontal Honing
Pack Bore/Deep Drilling
Component Complementary Capabilities:
Internal Coating (Phosphate)
Welding (SMAW & GMAW)
Induction Hardening
Painting
Internal Calibration (MIC TRAC 0.00002")
Audits & Certifications